Jan 28 2011
Jackson Pollock, splattering paint, language and learning opportunities
Today is the anniversary of the birthday of Jackson Pollock. When I first saw his paintings I loved the colours and the somewhat disorganised way they appeared to have been painted on the canvas. It was only later that I read about how he had placed canvases on the floor, instead of using traditional easels, and that he painted with rapid, impulsive brush strokes or by splashing or dripping the paint directly onto the canvas, sometimes using very weird and wonderful instruments.
Sometimes he even stepped into the paintings so that you can see his footprints on them,
totally immersing himself in, and interacting with, his work and in so doing became even more a part of his paintings.
Canvases and Black/White boards
When I did my teaching practice in Lisbon, Portugal in 1985, and I had my observed lesson, my tutor, Peter Wingard, commented somewhat critically on my blackboard work and said it had more in common with a  Jackson Pollock painting than an efficient and illustrative way of presenting new language and that I should do something about it. I agreed with him up to a point but when I did my MA in Lancaster and read about Dick Allwright's interaction hypothesis I wondered whether maybe there was something in the Jackson Pollock approach which might be relevant for teaching English.
Was there a similarity between splattering loads of paint on the canvas and splattering lots of language on the board and in the classroom and hoping that some of it might stick? After all, there isn't a one-to-one, causal relationship between teaching and learning. You can take a horse to water but you can't make it drink, but what you can do is to create lots of learning opportunities and the conditions for learning to take place. At least this is what I've come to think about classrooms over the years.
Why learners don't learn what teachers teach: The Interaction Hypothesis
In 1984 Dick Allwright wrote an article entitled "Why Don't Learners Learn What Teachers Teach? – The Interaction Hypothesis." The essence of it was that students have their own perceptions of what goes on in a classroom, and that if you ask them at the end of the class what they think they might have learned or what they noticed, students write down different things. In a class of 15/16-year-olds Fleki wrote this on Tuesday at the end of our class. Click on it to see it properly and the same with Melinda's and my whiteboard pic just after it.
For us as teachers, the implications of this are that if students learn different things from the same shared, communal experience, then it might be a good idea to try and find out what it actually is that learners are learning.
Just like in a Jackson Pollock painting where people see very different things, learners in classrooms are the same. This is Melinda's paper from the same class with a slighly different emphasis.
The extent to which we can make this explicit and also public within further classroom discussion, by using the students own reflections as part of understanding how different learners learn different things, might enhance both our own and our students' understanding of the learning process.
Anyway, I hope my boardwork is at least legible now, whatever it might have been like in Lisbon. I wish I had a photo of that lesson!
I still like using different colours for explaining different things and for differentiating and contrasting language. Jackson Pollock has, I'm sure, had some influence on that. When I was working in Brighton in the spring of 1989, I did a workshop on whiteboard work and I remember telling my story about my teaching practice lesson and how I hadn't completely agreed with my tutor's assessment, and that maybe Jackson Pollock's approach to painting might have some resonance in our profession.
The Stone Roses, John Squire and Jackson Pollock
Our whiteboard workshop coincided with the rise of "The Stone Roses" from Manchester who I saw in the Escape Club, Brighton that spring with another 50 or 60 people before the famous Spike Island concert. I loved the band then as I still do today and the guitarist, John Squire, was also an artist and was greatly influenced by the work of Jackson Pollock. This is one of their many colourful covers of one of their records.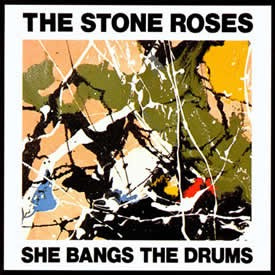 Jackson Pollock was born today, January 28th, in Wyoming in 1912 and died at the terribly young age of 44 in 1956. He has left us a huge legacy. "Mixing art and ELT, he asks me what the use is", to paraphrase Billy Bragg. So I think in some ways a Jackson Pollock canvas can compared to a classroom. I also think that taking paintings into the classroom can be a very motivating and memorable experience. As we know, it is more likely that learning will take place when as many senses are activated as possible. However, none of our students are likely to learn exactly the same thing in exactly the same way. This we can be sure of.
Happy Birthday Jackson!
PS and this is a very creative video including Jackson Pollock, the Stone Roses' "Full Fathom Five" the title lifted from Shakespeare's the Tempest. It is actually "Elephant Stone" played backwards!