My name is Mark Andrews, I work in Budapest and live in that yellow building in the picture behind the bridge! I have been teaching at ELTE university since 1996 and before that worked as a teacher trainer in the German Democratic Republic, Czechoslovakia and the Czech Republic. I also co-ordinate the IATEFL Hungary Culture and Literature Special Interest Group.
My educational influences are a strong belief in comprehensive schooling as eloquently argued for by Caroline Benn, the strong version of communicative language teaching in ELT developed by Mike Breen and Chris Candlin and, in more general pedgogy,  the writings of Paulo Freire, John Dewey, Carl Rogers,  Johann Heinrich Pestalozzi, whose school I visited a few years ago in Yverdon in Switzerland.
My father was also a big influence. He was also a teacher trainer with a strong sense of justice and saw the importance of treating everybody as individuals, rather than one big mass, always taking into account their personal circumstances. He always encouraged people in the real sense of giving them courage to try to achieve what they wanted to achieve in life.
I'm sure he would have been pleased with me getting into blogging although I wonder, given his somewhat shy personality, whether he would have been into it in a big way but he'd have been in there somewhere!  He took and passed an "A" level in photography shortly before he died in 1998, he was fast mastering the internet and was just about to buy a digital camera, so who knows how digitally shy he might have been?
So, in 2010 I'm going to try to use this blog as an exploration of "Quality of Life" in classrooms in all its manifestations.
When I'm not in classrooms I'm usually to be found soaking in thermal baths, wandering round Eastern and Central Europe, often in countries that the Danube flows through,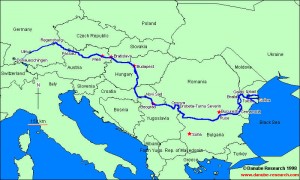 or enjoying all the delights that Budapest has to offer of which there are many! A friend of mine, Andrew Eames, followed the Danube, and places around the Danube, from source to delta, by bike, by barge, on horseback,  paddling in a boat and hiking.
He was following in the steps of Patrick Leigh Fermor and his journey was an inspiration for me to embark on this journey on an exploration into the world of the classroom, broadly based on the territories of the old Austro-Hungarian empire. I hope you enjoy reading what you find here and please feel free to comment on anything you feel would add to an understanding of the issues, questions and puzzles raised.  And wasn't it Oscar who said that nothing that is worth learning can be taught?:)